Amidst the pace of the World Trade Market (WTM) event at London's Excel Centre, Mrs. Nabeela Tunis, Sierra Leone's Minister of Tourism and Cultural Affairs, spared time to be interviewed on the state of Tourism in the country and related matters)
AB-For you, what has been the highlight so far, of this year's WTM event?
MINISTER NT: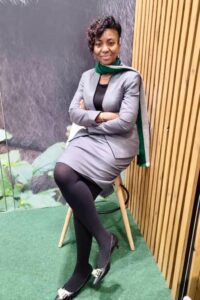 I am honoured to just be here for this event. The WTM is a three-day programme ending tomorrow and it has brought together travel and tour operators, and other professionals from all over the world, to promote their destinations and exhibit their unique attractions. I am exceedingly pleased and proud that Sierra Leone is part of this. We are exploring potential alliances with the aim of
attracting advantageous partnerships to our beautiful country. So far, the outlook is great as we've had several positive meetings with key players in the sector who could be instrumental in our vision to put Sierra Leone on the global trade and tourism market as a sought-after destination.
AB- Talking about the position of Sierra Leone on the global trade and tourism market, what is your assessment of that position?
MINISTER N.T. –
Sierra Leone has been highlighted as an emerging tourist destination, and for very good reasons too. Apart from our natural geographic endowments and interesting historic assets, the country is scoring highly favourable rankings in various categories, including the Global Peace Index. These improved numbers have helped us to raise our profile internationally. So now we are telling our own story, a different story; from civil war and Ebola to a story of resilience, a story which shows that we have a lot of assets, a lot of good products to share with the world. Recently Wanderlust (a premier travel magazine) did a detailed article on Sierra Leone. It shows that the world is looking positively in our direction. It is also important to emphasise that we have a President and a government that really cares about the people and working concertedly to showcase us through tourism. President Bio passionately believes that our greatest asset is the people, our culture and our creativity. This is what we are promoting here. That Sierra Leone is a unique destination, with a bit of everything.
AB- Throughout this journey what can you identify as the major obstacles on the path of an
emerging Sierra Leone, on a global market that has long been dominated by other countries and
destinations? And how do you think we can tackle some of those challenges?
MINISTER NT:
Well, there is a time for everything, and change is a certainty in life. I strongly believe that Sierra
Leone is coming into her own and this is our time. Flight connectivity is one challenge that we are working on. Although there are flights to Sierra Leone, we are not on par with key holiday destinations in other parts of Africa, Europe, Asia and America, in terms of connectivity and ease of travel. However, even as we continue working on acquiring direct routes, I must commend the
Ministry of Transport and Aviation for not only increasing the number of flights going to and from
Sierra Leone, but for also establishing new routes which is something that we are all proud of.
Partnering with the the Ministry of Transport and Aviation, I am pleased with our progress in partnering with key players with the ability to run chartered flights. It must also be pointed out that domestic collaboration has to be improved upon. Although we have a plethora of enterprise in Sierra Leone, these businesses typically operate in silos and fail to take a tourism or hospitality perspective. Such an individualistic operating mode removes underpinning from tourism in Sierra Leone. Yet another challenge can also be found within government itself. It is recognised from within that tourism is a potentially strong revenue generating stream. Historically however, the tourism sector has not been able to fulfil its potential and secure its ranking as a reliable partner. Nevertheless, the sector is making a lot of effort to up its game and bring itself the recognition it deserves. In summary, we need to improve travel connectivity; establish commitment and participation from the business community; and obtain the consistent support from central
government. It is crucial that we continue working on enhancing the structures that support our
mandate. If we want to have a well-harnessed private-driven sector, owned and operated by the
people, the ministry itself needs to restructure itself to support that venture.
AB- On the last point, what are you doing as a ministry to address that structural challenge you just
referred to?
MINISTER NT-
Well, with reference to the ministry, we are currently reassessing our internal structure. You may
know that most of the ministries are presently undergoing management and functional review. The
Ministry of Tourism is no exception, and we shall shortly implement an expansion of our directorates and divisions. We are also driving statutory changes. The right legal framework will ensure that the Tourism Master Plan, supported by the World Bank, can be fully implemented. This is a 10 year Strategic Master Plan which aims to position Sierra Leone as one of those countries for whom tourism is a big slice of the pie, perhaps even more valuable than our precious
minerals. For us to achieve this, we need to have the requisite structures, an enabling legal framework, and we need to get our people on board and properly sensitised.
AB- Talking about sensitisation, it is to be observed that one reason why tourism is not so widely embraced in Sierra Leone might be, ironically, due to the country's bountiful assets. It can be argued that many people see tourism as an extraneous activity that cannot be compared with
traditional vocations such as farming, diamond digging or even office work. What is the ministry doing or has done to address this perception gap?
MINISTER NT-
We are doing a number of things in this direction. This includes a one year person-to-person campaign to reach out to as many people as possible. We plan to reach out to 3.5 million people, initially, and we have agreed with our staff to dedicate voluntary time slots for this.
AB- So in order words you are hopeful that…
MINISTER NT-
Yes, I am hopeful, but I am much more than that, I am strategic, and we have a Road Map. If we
follow that Road Map and we get the support from all sectors, then I can safely state here that tourism
could be Sierra Leone's largest income generator.
AB-In terms of available tourist assets or sites, Sierra Leone has quite a few. One such important place worth mentioning is Bunce Island, a place of great historical significance which has gone to ruins, over the years. What plans do you have for places like Bunce Island which is one spot where some tourists get emotionally connected?
MINISTER NT-
Thank you so much for that question. Sierra Leone is one place where we have authentic original
relics. Harking back to the Trans Atlantic Slave Trade, Bunce Island was a key location. interestingly, only two months ago we were at the ruins of a slave fort in Rotumba, in the northern part of the country. Notwithstanding its grim
association, sites like this form a major part of our national history and we currently seek to have these
locations listed on UNESCO's World Heritage Sites. These sites among others, are valuable national assets and we are working hard to ensure that they are preserved as they are. We may not yet be as sophisticated as other countries when it comes to tourism, but what we do have is an
exceedingly rare raw authenticity to showcase to the rest of the world. These sites are already popular with the more intrepid traveler. With other heritage sites like the Kingsyard, private sector partners have started to express interest by significantly contributing to their preservation. It is extremely heartening to note that Sierra Leoneans are realising the importance of tourism and now seek involvement with the aim of
preserving and unveiling our culture. Our government cannot do everything, so establishing
tourism as a private sector-driven industry will increase the odds of the overall success. Tourism, culture and
history evoke strong sentiments in a people and our government is financing the maintenance of
the historic sites while encouraging collaboration with the private sector. The objective is to preserve our heritage, monetise our assets, and allow our people to financially gain from their creativity and inheritance! In this endeavour, we are partnering with philanthropic organisations as well.
AB- I know there are many things going on at this WTM event. The meetings, the interviews, the
activities. I see a lot of traffic heading towards the Sierra Leone stand. What can you say is the main takeaway for you?
MINISTER NT- Yes indeed, a lot is going on here, as should be expected. I think what stands out
for me is the interaction. The attraction and the interaction are what informs our small but impactful
space. It is amazing to see people not walking by without stopping. It shows that Sierra Leone indeed has the Pull Factor. So for me, that has been the big highlight. And seeing the close interactions between the private sector and the public sector, the works of our DMCs, (Destination
Management Companies) is hugely encouraging. It is great to see the way they have been operating as one unit, working together, reaching out and selling the destination. This nexus of concerted efforts to drive forward our tourism is the highlight for me. Another highlight was the
Jamaica minister of tourism (Hon Edmund Bartlett) coming over to see us. We also had a number
of interested influencers come over. We had the CEO of ATTA (African Travel and Tourism Association), Jon Danks. We are already talking about admitting the National Tourist
Board and some private sector operators into the membership of ATTA. This is a huge body with a
vast array of networks, which seeks to provide a platform for enhanced discussions and to create
visibility for tour operators and marketing agencies in Africa. We have met with Kojo Bentum-
Williams of the UNWTO (United Nations World Tourism Organisation). Kojo is the senior UNWTO expert in Africa and he is also the Managing Editor and Publisher of Africa's leading travel and tourism magazine- VoyagesAfriq. The list goes on.
For us, these are necessary steps forward towards raising the profile of our country and selling our
destination. It is an emerging destination which will soon be THE destination. We do strongly
believe that. And the approaches that we are taking, supported fully by government policies and
processes, will serve to drive productivity and growth in the sector.
AB- In your opinion, what is Sierra Leone's greatest asset?
MINISTER NT:
Our greatest asset is the people. We want the people to get fully involved and to do this for themselves. That is why the ministry is working on that one year person to person campaign I spoke about earlier. We are going out to talk to people to convey what tourism is all about and how they can make personal connections and utilise that to better their businesses and improve their livelihoods. The sensitisation campaign aims to promote the understanding of how important tourism is to economic growth in Sierra Leone. This campaign will be conducted with other interested actors who come on board. As I said, we are initially targeting about 3.5 million people
in this campaign, to get them to understand the role they must play to promote tourism. We want
to get to a stage where tourism is owned by each and every individual so that they understand its impact and importance. You know, we have this slogan that "TOURISM NAR ALL MAN BUSINESS". We want to really ensure that people understand that Tourism is EVERYBODY'S BUSINESS. We are lucky at this point because to understand the history of Sierra Leone is to realise that we have an abundance of assets. However, the spotlight has been placed on tourism only in the past couple of years. At least two of those years were scuppered by the Covid 19 Pandemic. So we have been struggling and we have been trying, but we are now taking a more
robust approach into the sector to showcase what we as a nation have to offer. We are optimistic that the one year sensitisation campaign will further our overall goals as we seek to position Sierra Leone firmly in the trade and tourism sphere. For example, if you start to talk to any Gambian about their country's tourist attractions, they could easily list several of their most popular.
We want Sierra Leoneans to be as knowledgeable and confident about what our country has to offer.
Sierra Leone has more to offer than the immediately obvious. We have a string of islands, mountains, beautiful landscapes, culture, heritage, monuments, amazing people. We have uniqueness that we ought to be proud to share with anyone. Geographically, we are strategically located. We are almost globally central and not too far away from America, and Europe. We want
people to come to Sierra Leone and explore Freedom. We are experiencing Freedom as Sierra
Leoneans and we want to export that Freedom to the wider world, by enticing visitors to enjoy what we have to offer.
AB- In general, what else would you want Sierra Leoneans to do to help with this effort of putting
the country on the global map?
MINISTER NT-
I think we should start with the individual and then their communities. We encourage Sierra
Leoneans to focus on the positive. We need to be upbeat about our country and market our better
attributes to the world; promote the good and champion whatever will promote our collective interests. We shouldn't leave it to strangers to talk about the good that we have. We should be singing our own praises. Being self critical is good, but being overtly self-condemnatory can result in negative outcomes for the country
by undermining our better efforts. Oftentimes, social media posts yield more negativity than optimism, and we all know the algorithms will drive the popular negativities rather than the less espoused attractions. Unfortunately, bad news not only sells better but endures longer. That is why the horrific rebel war is still a conversation piece decades after its end. People are still talking
about Ebola. We need to adopt a collective positive mindset and create and maintain more helpful
talking points.
AB- I have to admit that Sierra Leone is indeed a hidden gem. I also agree that to unveil this sparkler, in its full glory, requires the efforts of everyone including those in the diaspora. Considering that the High Commissions and the Embassies are the gateways into the country,
how do you intend to utilise these portals to help channel the effort of the Ministry?
MINISTER NT:
That is a very good point. In fact we have engaged the Minister of Foreign Affairs and International
Cooperation on the subject of using our foreign missions to promote tourism and he is being very
supportive and is more than willing to pursue this initiative with us. We should absolutely engage
our foreign missions as conduits for championing our goals, achievements and activities because
we are all agents for promoting tourism.
AB-Madam minister, I want to thank you so much for giving me your time in the midst of so many important engagements.
NT-
It is a pleasure. And thank you too for sharing this time with me!
Abdulai Braima
Information Attaché
SLHC- London