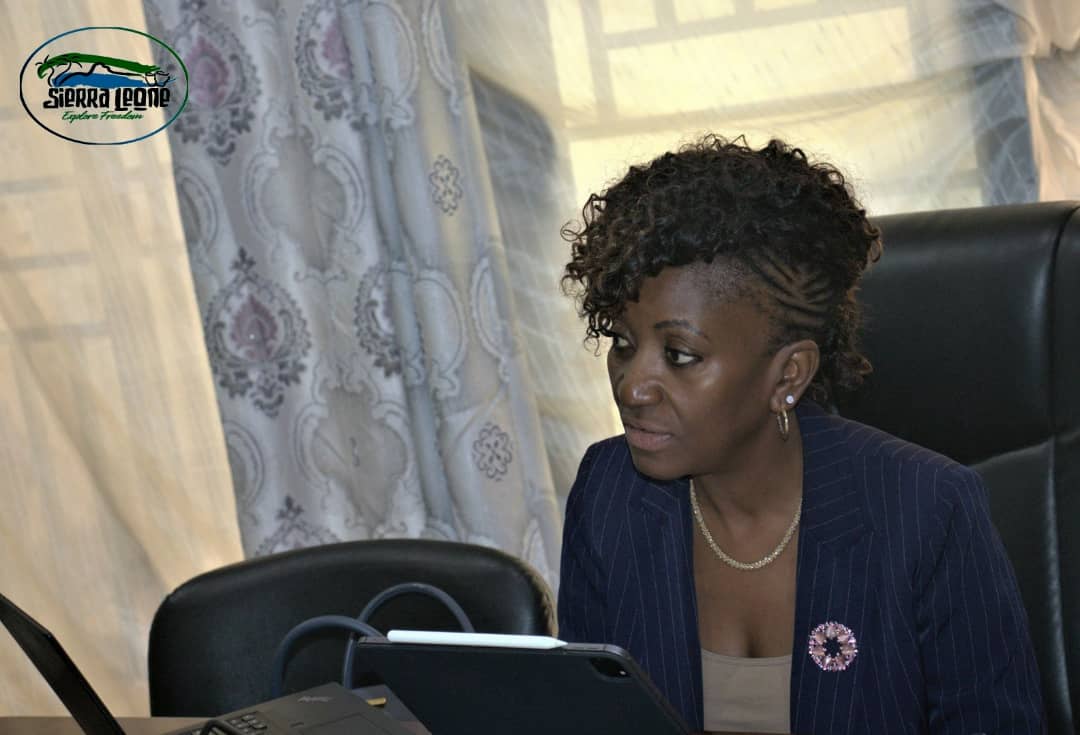 The Minister Of Tourism & Cultural Affairs
Mrs Nabeela Farida Tunis
Mrs Nabeela Farida Tunis is the current Minister of Tourism and Cultural Affairs in the new SLPP Government. Minister Tunis has vast experience in Development Management, International Relations, Diplomacy, Political Analysis and Governance, Conflict Prevention and Mediation, Gender Analysis and Mainstreaming, Environmental Governance and Human Rights issues.
Prior to her nomination as Minister of Tourism and Cultural Affairs, Minister Tunis was Regional Minister of Western Region from May 2021 to July 2023. During that two-year stint, Minister Tunis transformed community governance in the region and demonstrated beyond doubt that when ordinary people sit at the heart of development activities, successful outcomes are guaranteed. Apart from the several tangible development actions she pioneered in communities across the region, ranging from the provision of solar streetlights to dozens of dark communities, providing automated boreholes in deprived communities, refurbishing of schools and health centres, to providing soft loans to women and youths, Minister Tunis succeeded in restoring self-worth and value among the vast majority of the people of the Western Region.
Minister Tunis was also Minister of Foreign Affairs and International Cooperation for two years (2019-2021). As Foreign Minister, she championed the rebranding of Sierra Leone and helped restore international respectability to the country. Madam Tunis contributed to institutional strengthening and reform of the foreign service through the delivery of a foreign policy guideline, the construction of the foreign service academy, a management and functional review, and the conceptualization and introduction of a foreign service carrier scheme. She also expanded diplomatic relations, chaired Regional/Continental forums, and raised Sierra Leones profile by securing the election of nationals to notable international positions. Minister Tunis initiated and was the driving force behind Sierra Leones bid for the United Nations Security Council non-permanent category, 2024-2025.
From May 2019 to May 2020, Madam Tunis was Minister of Planning and Economic Development (MoPED). During her tenure, she oversaw the change management process that transitioned the Ministry from an appendage of the Ministry of Finance to a stand-alone Ministry. At MoPED, Minister Tunis provided the leadership and strategic direction in the production of several policy documents including Sierra Leone's Medium-Term National Development Plan 2019-2023, Sierra Leone's Development Cooperation Framework and the Population Policy. Furthermore, Minister Tunis was pivotal in coordinating Development Partners and Non-Governmental Organizations around the development priorities identified by the government and people of Sierra Leone. She also served as the Chair of the g7+ Group of Fragile and Conflict Affected states and Co-Chaired the International Dialogue on Peacebuilding and State building.
Prior to her appointment as Minister in 2018, Minister Tunis excelled and distinguished herself at the United Nations in various capacities. Minister Tunis served as a Senior National Officer within the United Nations Integrated Office in Sierra Leone and later at the United Nations Peacebuilding Office in Sierra Leone. While serving the United Nations, Minister Tunis championed women empowerment issues, child protection issues, youth empowerment issues, and good governance. She was pivotal in the formation and institutionalization of cross Political Party Associations including the All Political Parties Youth Association and All Political Parties Women's Association.
Minister Tunis was Co-Founder and Program Manager of Women's Network for Environmental Sustainability (WoNES) and served as member of the Sport and Environment Commission. As an independent consultant and researcher, she has been a strong voice in promoting gender equality, inclusive growth, development and environmental protection at both national and international fora.
Minister Tunis holds a Master's degree in Rural Development and a Bachelor of Arts in Political Science and English from the University of Sierra Leone.  She has postgraduate certificates in Peacebuilding, Conflict Analysis and Management, Environmental Governance, Gender and Human Rights.
Minister Tunis is recognized for delivering an inclusive, participatory, and transformative national development plan as well as transforming new ministries into formidable state institutions that are central in the coordination of development. She is also recognized for the heightened international recognition and respectability Sierra Leone earned under her tenure as Foreign Minister.  Her passion for development and humanity is manifested through her several philanthropic and mentoring undertakings for women, youths and the aged across the country.  Minister Tunis possesses an unwavering love for nature and an innate talent for building. She is married with three children.